We are the commercial cleaning experts.
Welcome to ServiceMaster Clean Mississauga
YOUR JANITORIAL AND COMMERCIAL CLEANING EXPERTS
ServiceMaster Clean Mississauga has been providing janitorial services, carpet cleaning, floor care and upholstery cleaning to commercial facilities in Mississauga since 1967.
We provide janitorial and commercial cleaning services to a number of different industries in the Mississauga area including healthcare facilities, educational institutions, government buildings, the hospitality industry, property management groups, manufacturing facilities and everything in between.
OUR GOAL IS TO MAKE YOUR JOB HASSLE-FREE
At ServiceMaster Clean Mississauga, we have an unwavering commitment to providing the best janitorial and commercial cleaning services to our customers. We are results driven, aiming to consistently do the job right and striving to make your job hassle-free. That's why we make ourselves available to our customers 24 hours a day/7 days a week.
A TRUSTED PARTNER IN CLEAN
We work in partnership with our commercial cleaning customers to ensure that we deliver a cleaning program that works for them. Whether it is a personalized daily task list or a specialized periodic cleaning requirement, we are happy to work with you to create a cleaning program that suits your needs and your budget.
A TEAM WITH THE EXPERIENCE AND TOOLS TO EXCEED EXPECTATIONS
We offer a great depth of janitorial and commercial cleaning experience to our customers. Our highly trained cleaning crews and technicians are fully versed in compliance and security-related issues. We employ comprehensive processes utilizing state-of-the-art equipment and products to ensure you receive the highest level of cleaning performance and an outstanding level of service.
Serving the Mississauga area with great pride, ServiceMaster Clean Mississauga would be happy to help keep your commercial facility looking its very best. Contact Us for more information on our services.
PREVENTATIVE CLEANING AND DISINFECTION SERVICES
For years, ServiceMaster Clean Mississauga have been the experts in creating clean, safe and healthy workplace environments. Our experience and training afford us the ability to promote safe practices for infection prevention within all businesses.
In these unprecedented times, we are ready to respond with effective and customizable solutions. ServiceMaster Clean Mississauga provides a full range of cleaning and disinfection services that will help to keep your workplace healthy and productive.
GET A FREE ASSESSMENT
COVID-19 FAQs
How can I protect myself from COVID-19?
Social distancing
Together, we can slow the spread of COVID-19 by making a conscious effort to keep a physical distance between each other. Social distancing is proven to be one of the most effective ways to reduce the spread of illness during an outbreak.
This means making changes in your everyday routines to minimize close contact with others, including:
avoiding crowded places and non-essential gatherings
avoiding common greetings, such as handshakes
limiting contact with people at higher risk like older adults and those in poor health
keeping a distance of at least 2 arms-length (approximately 2 metres) from others
Hygiene
Proper hygiene can help reduce the risk of infection or spreading infection to others:
wash your hands often with soap and water for at least 20 seconds, especially after using the washroom and when preparing food
use alcohol-based hand sanitizer if soap and water are not available
when coughing or sneezing:

cough or sneeze into a tissue or the bend of your arm, not your hand
dispose of any tissues you have used as soon as possible in a lined waste basket and wash your hands afterwards

avoid touching your eyes, nose, or mouth with unwashed hands
Cleaning
While it is not certain how long COVID-19 survives on surfaces, it does seem to behave like other coronaviruses. Preliminary information on COVID-19 suggests that the virus may persist on surfaces for a few hours or up to several days depending on different conditions, such as:
temperature
type of surface
humidity of the environment
Although they do not claim to kill viruses such as COVID-19, cleaning solutions can play a role in helping limit the transfer of microorganisms. Health Canada has published a list of hard surface disinfectants that are likely to be effective for use against coronavirus (COVID-19). Public health officials such as WHO and Health Canada recommend cleaning high-touch surfaces often. In the workplace, it is recommended that high traffic work areas or frequently touched surfaces are disinfected twice daily. For example:
In your home:
toys
toilets
phones
electronics
door handles
bedside tables
television remotes
In the workplace:
desks
tables
handrails
doorknobs
computers, including keyboards and mice
countertops
light switches
faucet handles
cabinet handles
elevator buttons
phones
kitchens
cash registers
restaurant tables and menus
Source
https://www.canada.ca/en/public-health/services/diseases/2019-novel-coronavirus-infection/prevention-risks.html#h
MORE COVID-19 FAQS
News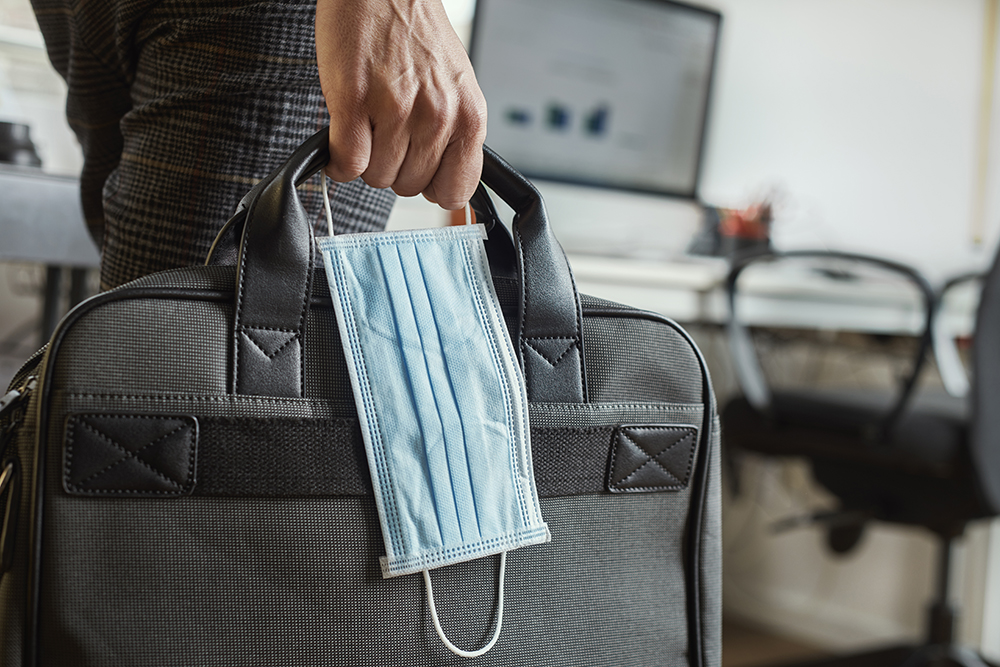 Getting Back To Work: Keeping Your Office Safe
As rates of COVID-19 infection gradually decline and some parts of the world are cautiously emerging from the pandemic, the main question on everyone's mind is what does the new normal look like?
---
Cleaning and Disinfection Services
We take disinfection seriously! As such, our process always begins with cleaning to allow us to remove any visible dirt and soil. By cleaning first, we enable the disinfectant product to do its job effectively! For disinfection service, we use only Health Canada approved disinfectants. Should your concern be specifically about COVID-19, rest assured, our disinfectants are also on Health Canada's list of approved disinfectants for use against COVID-19.
About Us
THE MOST TRUSTED AND RELIABLE COMMERCIAL CLEANING COMPANY IN MISSISSAUGA ServiceMaster Clean Mississauga is the most trusted and reliable janitorial services provider, commercial cleaning and building maintenance company in Mississauga. We believe in providing top-quality commercia
Commercial cleaning services to suit every budget. Our plans start as low as $250 per month - whether you need daily janitorial office cleaning, commercial carpet cleaning or specialty commercial cleaning. Depending on your specific requirements, we will work with you to develop a plan that suits your needs, and your budget.
Guaranteed Service
No other vendor offers the quality of service and degree of commitment as consistently or as affordably as ServiceMaster Clean. We are so confident in our performance, we guarantee it!
Our expertise, dedication and value-added services make us the best commercial cleaning choice for your business.
Get A Free Assessment